I spent a lot of my Sunday working on some other writing-related projects, so I'm almost all out of words to write an intro for today's newsletter. But I do have lots of great links for you! There was so much good stuff to read on the internet this week.
What I'm reading this week
Why women, but not men, are judged for a messy house, New York Times. My hot take is that, if you can afford it, it is well worth it to hire a cleaning service.
A modest proposal for equalizing the mental load, New York Times.
Smash the wellness industry, New York Times. "Wellness" is just another word for what women have been told to do since the beginning of time: diet.
The case for boring office clothes, The Atlantic. Listen, as someone who supports uniform dressing and also buys like 80% of my clothes from J.Crew and Ann Taylor, I support this. I'd rather spent my energies elsewhere.
The Negroni is 100 years old — and the perfect cocktail for 2019, New York Times. Finally a *correct* take from the NYT on cocktails involving Italian liqueurs! Negronis are good and I will not be entertaining any arguments otherwise.
Natural wine, explained, Vox. What makes a wine "natural" is….complicated! But this is a great explainer!
Two writers on the joys of being single, but also sometimes dating, in your 30s, Bon Appetit.
The invention of the "beach read," The New Yorker.
Mindy Kaling's Late Night Is a Rebuttal 15 Years In the Making, Slate. I saw Late Night this weekend and it was so good! Emma Thompson is incredible! I want to watch it like 3 more times! More comedies about women at work, please!
Mindy Kaling on not being the long suffering Indian woman, NYT Magazine.
Taffy Brodesser-Akner really, really, really wanted to write this profile, Cosmopolitan. Taffy makes $4 a word? I say more power to her - she's the best profiler in the business.
The highs and lows of life as a black editor-in-chief, Medium. Former Teen Vogue EIC Elaine Welteroth shares some *truly insane* stories from her time at Conde Nast.
Stuff I've been cooking
Maybe you've noticed this section was missing the last few weeks! That's because since summer started I can barely motivate myself to cook anything. In winter I'm all about the elaborate project cooking and in summer I basically: a) only want to go out all the time and b) refuse to turn on my oven and heat up my entire apartment. If anyone has easy summery, no-oven-required recipes to recommend to me I would love to hear about them!
Just for fun
Here's a cute photo of my dog being cute this week.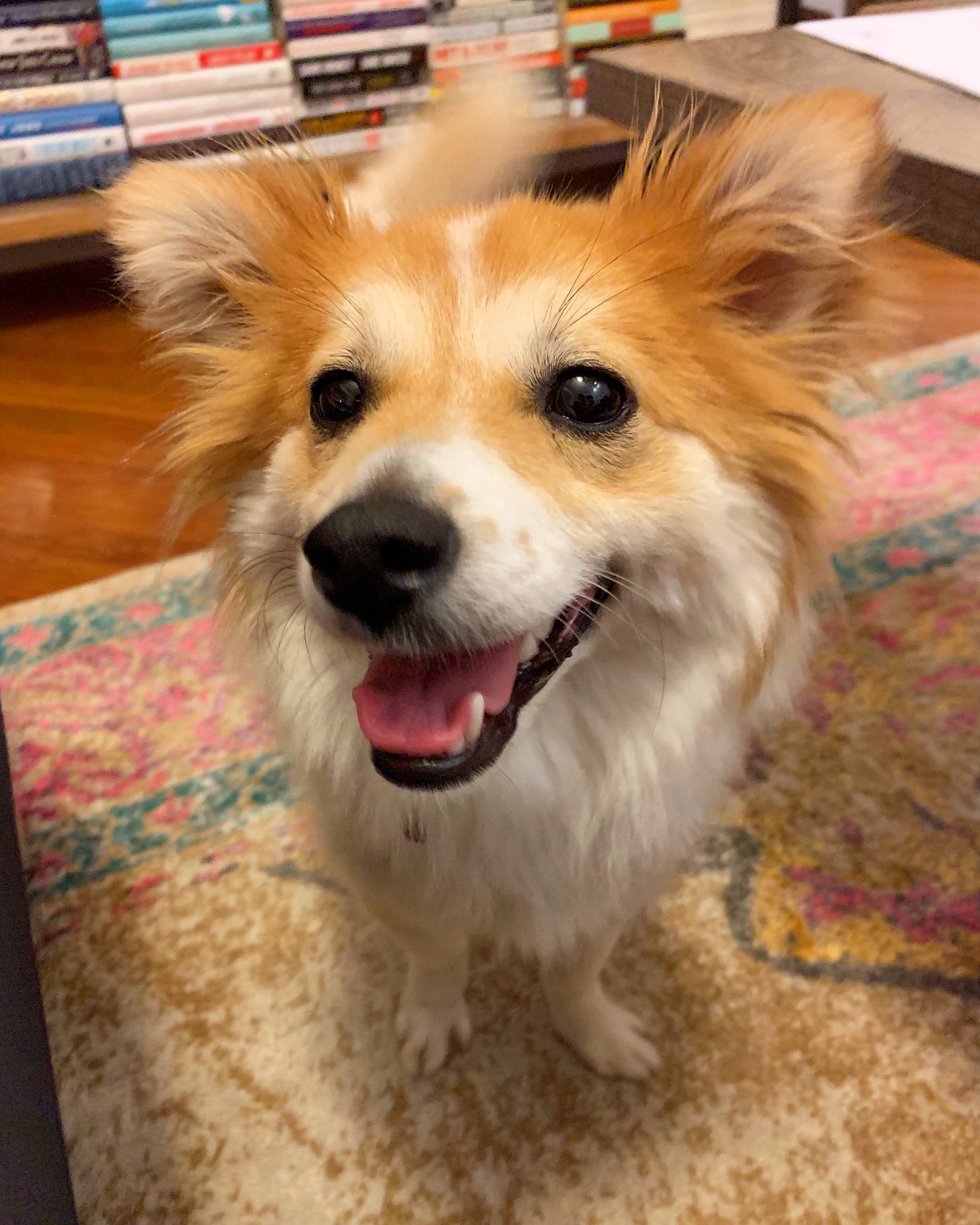 ---
Thanks for reading! If you like this newsletter, please share it on social media or forward to a friend — they can subscribe at nishachittal.substack.com. And if you have thoughts on this week's newsletter or suggestions to include in the future, feel free to reply to this email and let me know.